Sorry, I couldn't resist the alliterative title. The fact that it is actually getting warm enough to consider playing golf made me realize that I probably should finish up my husband's golf club covers. That, along with increasing guilt over not having finished his Christmas present by March. (Umm...happy Easter, honey?) So I sucked it up and finished the third one. It really only took me a couple of evenings to do it; now I'm not sure why I put it off so long. Anyway, here is the completed set: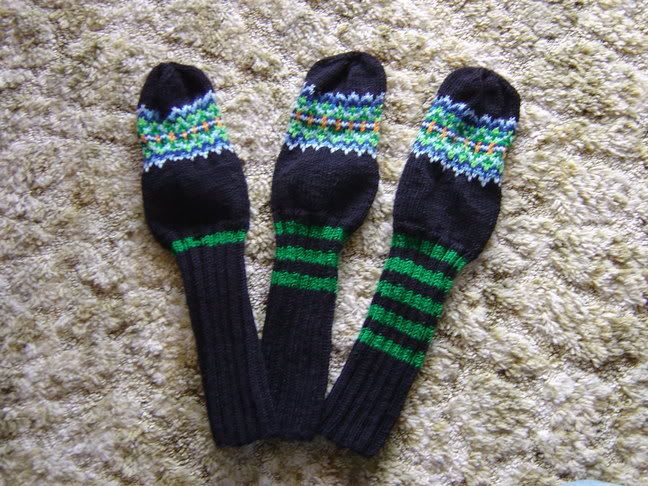 In other news, as you may be able to tell by the new button on the sidebar, I have joined the
Flash Your Stash
knitalong started by the folks over at the Knittyboard. It's not really a knitalong in the usual sense; it's really more of a collective blog posting. On April 1st, everyone is going to post pictures of their stash in its entirety. I have a sneaking suspicion that my stash is smaller than those of a lot of knitters', so this will either confirm or contradict my belief. My stash is pretty small because it is mostly leftovers. I think I can count on one hand the times that I have bought yarn without a specific project in mind. Does that make me an abnormal knitter?