But I have made some progress, I promise. My poncho pieces are blocking as we speak. I finished the front of my sweater and have started on the sleeves. I haven't worked on the French Market Bag much, but I am planning on taking it to my Knitting Meetup this Wednesday. (My first Knitting Meetup - yay!) However, instead of working on any of these last night while my friend Sara was over and we were knitting while our husbands played video games, I cast on for a new project. I am making lace ball ornaments for my family for Christmas, and I figured I should probably get started on those.
Here
is the pattern for that, in case anyone is interested. They're pretty cool, actually. You knit the ball, then dip it in glue and blow up a balloon inside it. When the glue is dry, you pop the balloon and you have a stiff ball ornament.
Well, to make up for not having any pictures of my knitting, I thought I'd include some pictures of Franklin in my knitting bag. This actually happened months ago, but I was looking at them again today and realized that they were so cute, they should be shared.
Here he is inside the bag on the couch: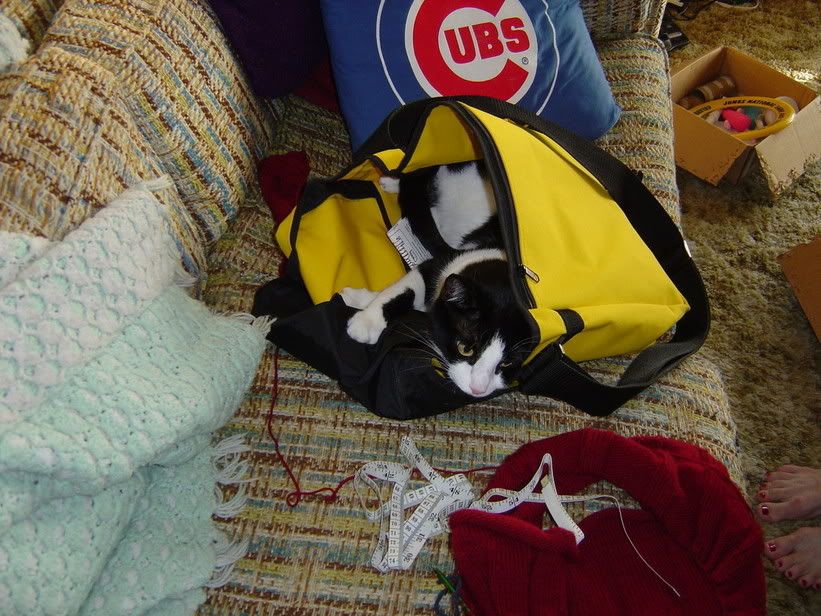 And here he is once I picked up the bag with him inside it. Please excuse my bare stomach. I had just come back from a run and was wearing a sports bra.